NCIS LA star Daniela Ruah issues social media warning to followers: 'Beware of this!'
NCIS: LOS ANGELES star Daniela Ruah – who CBS viewers will know best for her role of Kensi Blye – took to her public Instagram page earlier today to share a startling warning with her followers.
Kensi Blye (played by Daniela Ruah) has been a fan-favourite in the world of NCIS: LA ever since she made her debut in the CBS series pilot. From her adorable romance with Marty Deeks (Eric Christian Olsen) to her fearless work in the field, Kensi has been keeping viewers on the edge of their seats for over a decade. And as a result, hundreds of thousands of fans have been keen to keep up to date with what actor Ruah is up to via her social media channels.
The NCIS: LA stalwart has quite the fanbase on her Instagram page, with 1.1 million users following the actor.
Ruah regularly keeps her fans in the loop with what she's up to, whether it be snaps from on set of the drama or snippets into her family life.
However, she had to use the platform to warn her followers about an attempted scam she found herself on the receiving end of.
Taking to her Instagram stories, Ruah shared a screenshot of the scam in question and issued a strongly-worded warning.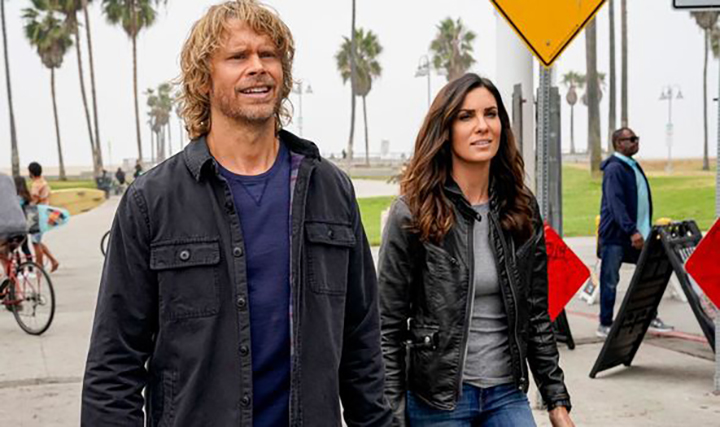 Alongside a gif of a danger warning sign, Ruah penned: "BEWARE OF THIS SCAM IN YOUR DMs."
Her words were accompanied by a screenshot of a message supposedly from Instagram's Copyright Help Centre.
The screenshotted message encourages users to click an unknown link to avoid being "locked out" of their accounts in 24 hours.
Ruah appeared wise to the questionable message, however, and was keen to inform her followers to be vigilant.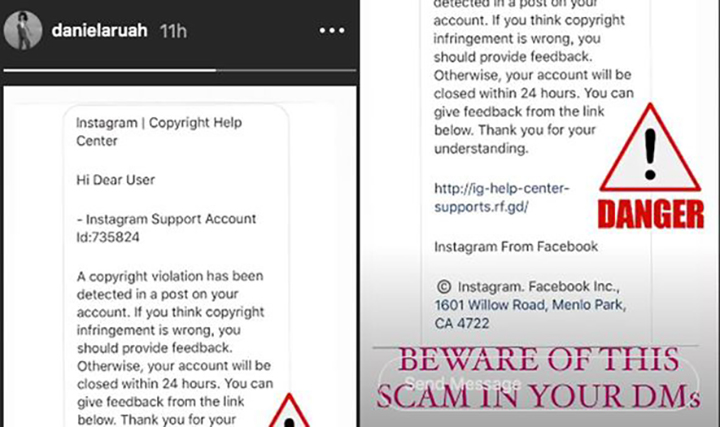 Her co-star Olsen issued a similar warning to his followers earlier this year when he too was sent an unfamiliar message.
Away from the scam, Ruah has been giving fans an insight into how she's been coping with the lockdown implemented during the coronavirus pandemic.
And fans were left feeling for the NCIS: LA star when she shared a rather messy mishap had occurred as she juggled homeschooling her children.
With liquid sprayed all over her kitchen and her children trying their best to avoid it, Ruah details how a culinary experiment went rather wrong.
She told her followers: "I've had to be more creative than ever to keep these 2 entertained and busy during quarantine…
"But this was by far the best," she added.
"Planned on making smoothie popsicles until mommy dropped the whole thing.
"20 minutes of cleanup ensued and a hosed down rug #quarantine #kids #spill #oops #popsicles #laughter #paintjob #ugh #homemade," she explained, clearly seeing the funny side of the incident.
Before long, several of her followers weighed in with their messages of sympathy, with several enduring similar accidents during lockdown.
"Could have been worse. You could have made the smoothie and forgot to put the lid on then the mess would be all over you," detailed one fan in response.
A second added: "I've been struggling to keep my almost 4 year old entertained too."
While a third weighed in: "I bet someone could do a photo book of quarantine kitchen mishaps! I give all parents credit for quarantine creativity."
Related News – Be sure to get some more news when it comes to NCIS.